Hitachi to launch ECHELON Smart 1.5T Superconductive MRI
ECHELON Smart 1.5T superconductive MRI, featuring superior image quality and a patient-friendly examination environment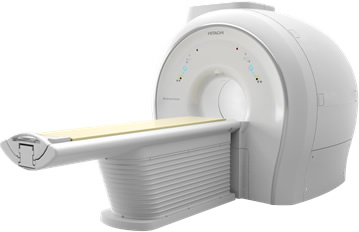 Vienna, March 2, 2017 -- Hitachi, Ltd. today announced the launch of the ECHELON Smart, a 1.5T superconductive MRI system providing high quality imaging together with a patient-friendly examination environment.
The ECHELON Smart delivers not only high resolution imaging, but combined with Hitachi's silent scanning technology, offers the patient a relaxed examination setting. New design functions assist system operation and reduce the need for repeat examinations caused by patient movement, thereby enhancing workflow and minimizing examination time which help decrease patient stress. In addition, the ECHELON Smart delivers a reduced energy consumption compared to conventional Hitachi MRI systems, contributing to the operational efficiency.
CT and PET*1 has the disadvantage of exposing the patient to radiation, whereas MRI is minimally invasive and also provides morphological information together with functional information. MRI examinations are essential, especially in obtaining contrast resolution of soft tissue which has a high moisture content as in the brain and spinal cord. On the other hand there are negative aspects, such as a prolonged examination time when the MRI system acquires multiple images, or the loud acoustic noise emission which can cause increased anxiety or discomfort for the patient.
The concept of ECHELON Smart is "Quality", "Speed", and "Comfort", offering high quality imaging, the most important factor for diagnosis, whilst incorporating silent scanning technologies together with other applications supporting both the operator and the patient whilst creating a comfortable examination environment. Furthermore, the ECHELON Smart power management enables the MRI system to reduce its running costs and improve operational efficiency.
Hitachi is contributing to the development of healthcare by the enhancement of silent scanning technology and clinical applications in combination with economic efficiency and simplified installation measures.
The ECHELON Smart is to be exhibited at the ECR (European Congress of Radiology) held in Vienna, Republic of Austria, from 2-5 March 2017.